Veloplus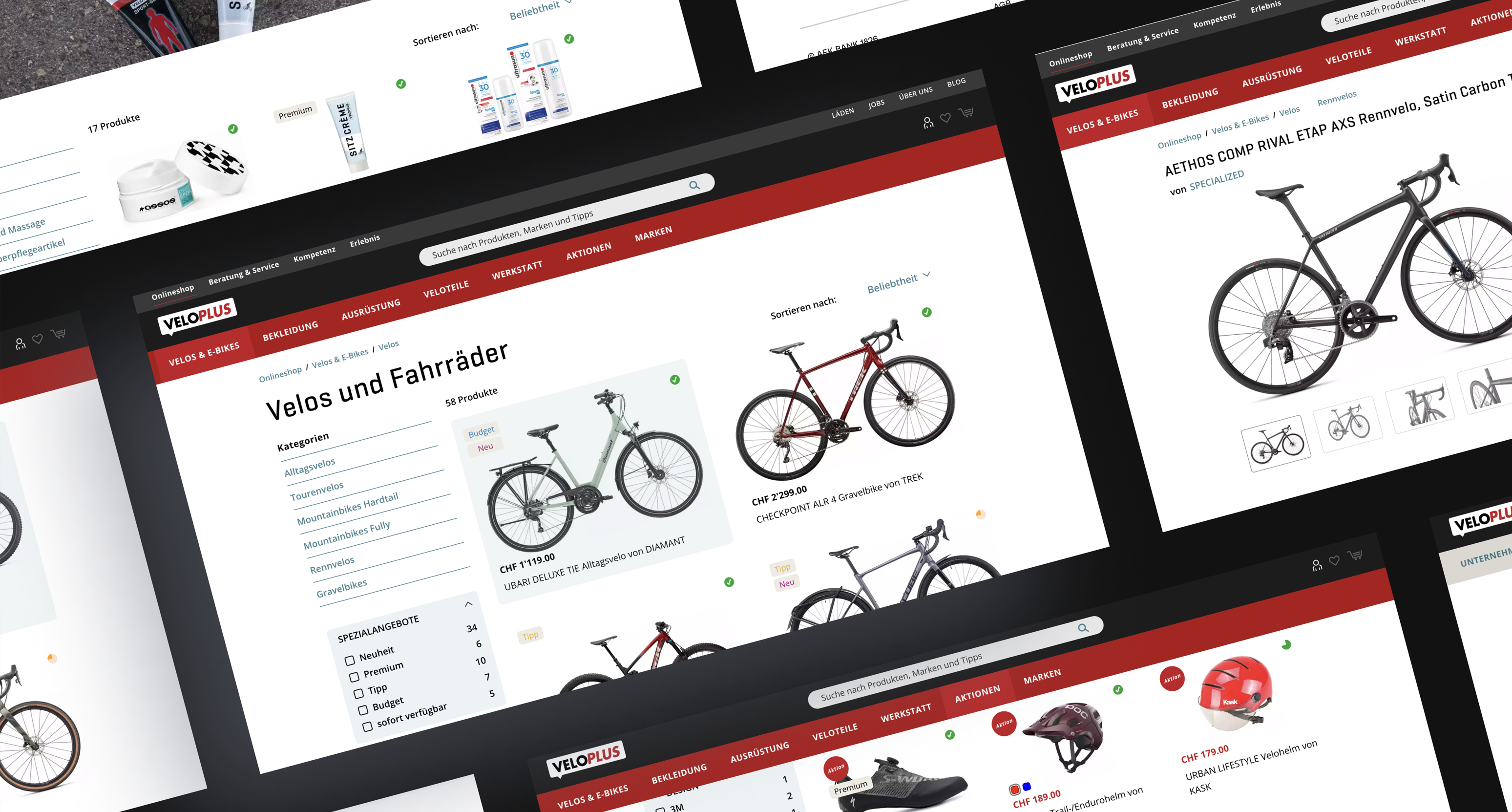 Veloplus is the number one shop for bicycle accessories, bicycles and e-bikes in Switzerland. The successful business boosts thousands of Swiss francs in revenue and hundreds of users and orders per day. In addition to the online shop, a team of around 100 employees operates ten bicycle shops across the country. Veloplus also owns a bicycle workshop (Veloclinic) where it offers repair work, as well as safety checks and environmentally-friendly bicycle cleaning. Additionally, Veloplus develops its own products and bicycle parts under the name Veloplus Swiss Design.
System architecture
Unchained Commerce together with Panter have jointly developed an entirely new website and created a future-proof e-commerce package that meets the requirements for modern UX and flexibility. We seamlessly integrated the existing core and peripheral systems such as ERP and PIM resulting in a a highly-dynamic customer-centric UX, which can also be tailored as desired with additional front-ends. Thanks to the modular system, the back-end consists of only the necessary interfaces and functions, which allows easy support and ensures reliable operation. The lightweight, headless architecture of the Veloplus online shop leads to significantly lower susceptibility to errors and makes operation and maintenance much more cost-effective than with conventional systems.
Technology
React/Next.js was used for the store's front-end and Apollo GraphQL to build the interface. React Admin was implemented as a UI and React Page as a content and layout editor for the back-end and CMS. In the back-end, prism was used for the CMS content and Unchained Engine as the shop's back-end. The data is stored in a MongoDB.
The result is a state-of-the-art online shop that sets new technical standards and continues to offer unlimited potential for future expansion.
Features
Smart product overview
Product categories have been expanded and are shown in a clear overview. Product variants and colours are summarised in a way that ensures simple selection. The purchasing process is streamlined thanks to the availability and delivery information features.
Advanced product configurators
Selecting the right bike is easier thanks to improved user guidance. We developed an innovative online session tool to determine the right frame size of your bike.
Professional search with type-ahead suggestions
We created a revised search feature based on the latest technology. It provides both product information and descriptions of the Veloplus services, as well as tips and tricks.
Self-service portal with user profile and order information
Customers with a registered account can make address changes, manage orders and create return orders at home. Thanks to the one-time registration, every future online purchase is streamlined.
Inventory Management
Manage the inventory in a simple Admin UI with a user-friendly interface. Or, import inventory and stock data from an old-world AS/400 ERP system.
Integrated headless CMS
The headless CMS makes it extremely easy to add, edit, and delete content without having to possess advanced IT skills.
Returns process / management
The optimised section 'Purchases & Returns' enables smooth returns processing. Once the reason for the return has been indicated, suitable return documents are automatically created, to be placed with the unwanted products.
Video consultation
Veloplus offers video consultations during the shop's opening hours. Customers can start a video consultation with a Veloplus employee with just one click.
Ratings & reviews
Thanks to reviews and star ratings, customers can help fellow shoppers make buying decisions while simultaneously helping Veloplus optimise the assortment.
Promotions & discounts
In a designated 'Promotions' category, customers can view all discounted items. Upon clicking on a selected item, one can make themselves familiar with miscellaneous available promotions when purchasing that item and other items combined.
Wishlist
When adding items to the wishlist, customers can quickly preview the article number, name, and price without having to leave the page.
Assistance
All Veloplus service offers are listed and described in a designated area.
More content within the shop
Throughout the buying process, from product search to order completion, customers are provided with useful and relevant information such as for example tips and tricks for new cycling experiences. Additional content built into the store can inspire them to go through the larger assortment selection while shopping online.
Together, Panter and Unchained have developed a solution that perfectly meets Veloplus needs: The mix of standard features and customised components provides us with the necessary flexibility and ensures reliable operation. The cooperation was characterised by professionalism, creativity and mutual respect.
Jens Kistler
Projektverantwortlicher Veloplus